January 4, 2007

We were on the Newnan Times Herald December 31, 2006 paper. Click here to view the article.
Thank you to Ms. Emerson for the wonderful write-up.

We hope you had a wonderful Holiday and thank you for your continued support!

December 10, 2006

We will close early on Christmas Eve at 5:00pm. We will also be closed on Christmas Day (Dec. 25th) and New Years Day (Jan. 1, 07).

Starting January 2007, our new hours for SUNDAYS are 11:00 am - 7pm. We appreciate all your support this past year. We hope to that you will continue to support us this coming new year and for many more years to come.

We hope you all have a wonderful Holiday!

November 22, 2006

Check us out on MYSPACE.COM. Click on the link below & be sure to add us on your friends list. http://www.myspace.com/orientalmarketplace

November 17, 2006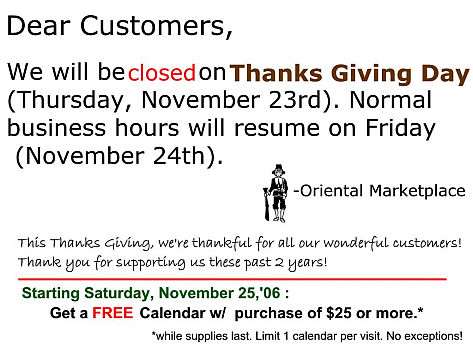 November 9, 2006
This past month, we celebrated our 2 year anniversary. As a thank you to all our wonderful costumers we offered 15% off all rice!

This month, starting November 25th, we will be giving away scroll calendars for purchases of $25 or more*. Be sure to stop by and get your FREE calendar.

As always, we appreciate your business and your continued support!
-Troncoso & Nguyen Family!

*While supplies last. Limit 1 calendar per visit.
September 23, 2006
Shirataki Craze!
For the past 6 months or so, we've been getting a lot of calls from people wanting to know if we carried Shirataki noodles and for the last month we've been getting calls about them at least a couple of times a week. YES, we do carry these noodles!
What are these noodles? Shirataki noodles are made from konnyaku flour, a water-soluble dietary fiber from the yam-like konnyaku plant grown in China and Japan. The dietary fiber in the konnyaku plant is called glucomannan which is sold in health food stores for weight loss. The noodles are mainly 96% water and 4% fiber. Shirataki, which are the shredded form of konnyaku, are flavorless but absorb the dominant flavors of the soup or dish to which they're added. These noodles contain NO fat, NO net carbs, NO calories, NO sugar, NO protein, and NO gluten! As if that wasn't enough, It also helps cleanse the digestive system. We also carry Tofu Shirataki which are

• LOW CARB — Only 3g of carbs per serving
• LOW CALORIE — 20 calories per 4 oz serving
• NO CHOLESTEROL
• NO SUGAR
• GLUTEN-FREE
• DAIRY-FREE
• CONTAINS 10% CALCIUM

These noodles come in Spaghetti and Fettuccini shape.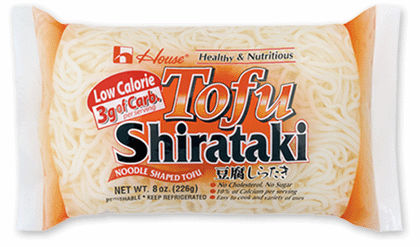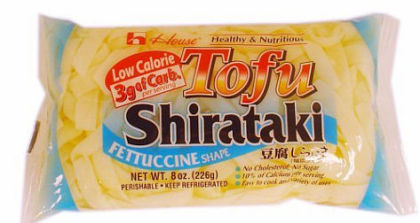 For more information or deliciousShirataki recipes, please check out HOUSE FOOD's website.

September 3, 2006

OM BLOG : Earlier this year we have added TAHO to our menu. This is a very popular snack in the Philippines, often sold by vendors going up and down the streets yelling "Tahoooo, Tahoo" =). It's a soft warm tofu custard served with arnibal (sugar syrup) and sago (tapioca).

Not only is it healthy but quite delicious. One bite and it will bring back memories of the Philippines. Definitely a comfort food!

Make sure you try one! We also added 3 new Flavors to our Bubble Tea Menu. We have 70+ drinks/treats to choose from.

For our customers in a low carb diet, check back this section of our website in a couple of weeks. We would like to give your more information about one of our products that you wouldn't want to miss.


August 11, 2006

BACK TO SCHOOL SPECIAL! Students, print this coupon below and get $ .50 off any flavor Bubble Tea or Fruit Smoothie. Valid thru September 30, 2006. (right click on picture and select "Print Picture")




August 11, 2006

We hope that you all like the new look of our website. Please make sure you sign our guestbook so that we know that you stopped by. Also, we now added a Recipe section to our website. If there is a certain dish that you want the recipe of, please don't hesitate to email us.

As always, we greatly appreciate your business

November 3, 2005




2005 Holiday PROMO (starts after Thanksgiving day): Free Oriental Marketplace Scroll Calendar with $25 purchase.

** while supplies last and 1 calendar per visit. No exceptions.

September 28, 2005

Please join us next Thursday October 6th for the Taste Of Newnan from 5:00 p.m. – 8:30 p.m. on the square in downtown Newnan.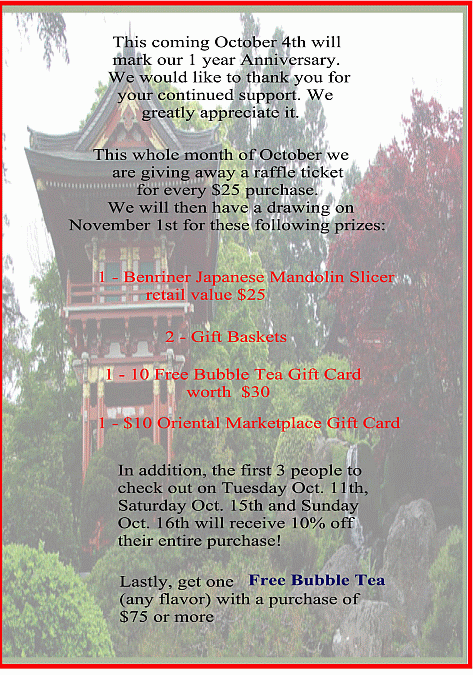 April 2005